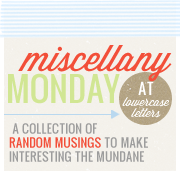 Happy Monday! It's a short week for me, thankfully, as I'll explain more below. Lots of good things happening soon and the summer's ending really quickly. A little too quickly!
1. I only have seven more days of seasoning training left! Just this week and next remains, then I'll be signed off for all of my upgrade training tasks. Five level, here I come! I pick up eight credits (technical education credits) from seasoning training that will count toward my CCAF degree and be the last push I need to get my Associate's degree in Human Resource Management. Big, big summer of accomplishments!
2. This Friday I'm heading down to Texas for my romantical getaway weekend at Sheppard Air Force Base. Yes, Wichita Falls for my 5th anniversary! DH is down there at tech school right now, learning how to be a crew chief on our C-130s. I'm so thankful that I'm getting the opportunity to get away and see him before school starts and the summer is completely over. With as much as he complains about not having much to do down there, he's got most of our weekend planned already. I'm really excited, as he's not much of a planner and not very much into holidays. We tend to have low key celebrations - can't wait to see what he has in store!
3. This weekend I went to the Brothers of the Sun Tour with Kenny Chesney and Tim McGraw, courtesy of the Air Force Reserve! I ended up taking a friend from BMT, my teacher best friend, and an MTI friend of mine. We had a pre-party with Tim McGraw and it was like being in a small, intimate club setting. He did three songs, including "Red Ragtop." Amazing time had by all! I was hoping to meet up with Michelle, a bloggy friend over at a little bit of this & that, but the cell service was so horrible at Mile High Stadium that we never connected. =/
4. Sunday I went to brunch with the same BMT friend above, and another BMT friend who's here for annual tour [she's a Reservist too] at the Air Force Academy. She's a medic and is currently working in the field where the cadets are going through their version of BMT before the school year starts. How cool is that? She gets to see how "the other side" trains. ;) She told me that they have a laundry service while in the field. It was great to catch up, just the three of us, and reminisce as we look back on almost a year of being out of BMT. [FYI, when I say "BMT friend" here, I meant these ladies were actually in my flight. Needless to say, we spent a lot of quality time together.]
5. My wingman has been away on vacation over the last few days and I'm lonely without her, let me tell you! Working Customer Service is not nearly as enjoyable when you're flying solo. Of course, I'm about to do the same thing to her at the end of the week. I miss my lunch buddy, my sing-a-long partner, and being able to trade off on tasks. Cherish your wingmen! They're indispensable!