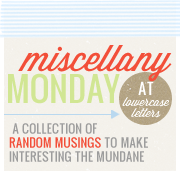 What a day, folks, what a day! I'm glad to get back into a "normal" week, without a holiday in the middle, throwing off my game. Of course, we have a UTA this weekend, so it's going to be non-stop with minimal downtime. Good thing I pretty much napped away my entire weekend. Away with the show!
1. I leaked some of my good news already on my Facebook page, so those folks got the insider info first! I told you a while ago that I had been made Airman of the Quarter for my squadron. After that is the group level, and then the wing level. For those still learning the AF lingo, the wing comprises all of the Reservists based on Peterson, which is just shy of 1500 people. I didn't hear anything about the group level competition, but today I found out haphazardly that I'll be going before the board in service dress on Saturday...because I'm competing against two other people for the Airman of the Quarter! I'm beyond excited and honored to have a chance to compete for such an award, a mere nine months since joining the operational Air Force. Saturday is definitely going to be an experience, since I've never been in front of a board before, of any kind. Heck, I've never had to wear service dress before! My understanding is that it works somewhat like a job interview - time to shine!
2. I've been away from my unit for a while now, since I've been doing seasoning training with the FSS (Force Support Squadron). It's been a reminder, at times, that the grass isn't always greener. Both squadrons have their strengths and weaknesses, and in both situations the people make the environment enjoyable. I'll be glad to be in my home squadron, if only for a couple of days. Flyers are a beast all their own!
3. FIL and I are going to the Pikes Peak or Bust Rodeo this Thursday, for 302nd night! Each night is dedicated to a different branch/command from the local area, and Thursday is ours. I went a couple years ago, and most of you know where I was last year. It'll be fun to get out and do something different this week, and support a local tradition. My favorite event is mutton busting! If you don't know what that is, you need to Google it, or maybe watch some YouTube videos. ;)
4. Most of you know that I do this, Aim High Erin, in all of its forms [Facebook, FB groups, Oovoo, Pinterest, Twitter, the blog, YouTube, etc.] because I genuinely enjoy helping people and watching them be successful. It's the teacher in me, what can I say? Maybe being an MTI isn't in the cards anymore, since I've decided to pursue commissioning, but I still love being able to send people off to BMT encouraged, motivated, and prepared. I don't ask for anything in return - a heartfelt thank you is plenty for me, as is spreading the word about what we've got going on here. All of that being said, two July shippers felt compelled to express their gratitude in monetary form. I promised a shout-out, and vowed to pay it forward. Trainee West, Trainee Archer, thank you for expressing your faith in me and what I'm doing here. I can't wait to see you two on the other side, freshly minted Airmen, ready to take on the world! Always stay motivated, move with a sense of urgency, and remember the wingman concept. I'll see you on the other side. ;) [Any monetary donations will be put back into the blog, whether it be promotion or site improvements.]
5. After a long day of being busy and getting exciting news, I hit the track and the gym for a great workout. It was nice to see how I do on the oval track with that upcoming PT test [which, coincidentally, is on our anniversary date]. After a good, hard workout, I walked out to the car, checked my phone, and saw an email I'd been waiting for (and kind of given up on). We're going to be homeowners. It's not a traditional transaction, which is why I hesitated even mentioning it, but in a few months, it will be ours. It's been a long time coming, and coincidentally, it's the first house we looked at when we started this process a few months ago. It'll give us everything we've been wanting - a half acre of land for all sorts of "man projects," a smaller house that's manageable for cleaning, and an upgraded kitchen to my specifications. Did I mention that it has a flagpole out front? I've always wanted one of those!