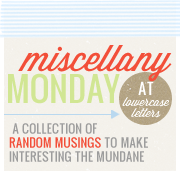 It's been forever since I've been able to participate in one of these! My day to day life involved a duty day, the gym afterwards, then home to make/clean up dinner. By the time I hit the couch, I'm wiped out with little motivation. Forgive me, readers, but I'm starting to carve out more time for myself. Thank you to all of the TV series that are finishing up and clearing off my DVR. :) Anyway, here I am!
1. I'm excited to report that the Waldo Canyon Fire is now 70% contained! Many of the evacuations have been lifted, roads have been reopened, and the community has shown such strength during this time. Neighbors helping neighbors, donations of money, food, and time, etc. The air quality is returning to normal and we're even starting to get more of our afternoon rains, which are typical for this time of year.
Sadly, 346 homes were destroyed and two lives were lost. The claims and rebuilding process has begun for many people, and the area got a wake-up call about disaster preparedness.
You may have heard today that a MAFFS plane from the 145th Airlift Wing, North Carolina Air National Guard, crashed in South Dakota last night. This has been devastating for the MAFFS community, even though the plane was not one of our own. At least one crew member is reported as a casualty, and the details on the rest have not been released. My deepest condolences go out to the families, friends, and fellow Airmen of that crew.
Two of the biggest charities for wildfire relief are Care and Share and the local Red Cross. There have been many worthwhile charitable events going on, and opportunities to volunteer/give back. A group of local artists have been putting together t-shirts, from which 100% of the profits go to the above mentioned charities. A recent design featured a C-130, so you can bet I snatched this one up in a hurry!
2. It's going to be a very low key and quiet Fourth of July for much of the state. Many cities have cancelled planned celebrations and almost all have put a stop to fireworks. I am thankful that the roads have reopened and that I can head up the mountain to my family's cabin, where we'll just relax and enjoy some quiet time...followed by some nickel slots at the local casinos! ;) Don't forget my rhubarb pie! It's just not the 4th if I'm not grubbing on some rhubarb! You can have your watermelon!
3. I scheduled my PT test today. It's my first PT test in the operational Air Force. Regardless of the fact that I'm in fairly decent shape, these things still make me nervous. My heart races when it gets down to it. I can handle timed standardized tests, but I get anxious when it comes to PT. I've never been a stellar athlete, and I can't reason my way out of a sit-up or a pushup. I have a month to really whip myself into shape and make this happen. I'm confident that I'll be able to pass, but I'd love to get a 90.
4. Now that things are slowly winding down, I need to refocus and begin studying (hardcore) for my upcoming AFOQT. Just a bit more than two weeks to go, yikes! I took more practice components today and bombed the aviation section - 5%! Oops! I know nothing about that sort of thing, so it's a good thing that I'm too old to be a pilot. I wish I could just skip those sections entirely, since it's not even an option for me. Hopefully they'll recognize my stellar qualities in other areas. :)
5. Most of you know that we're a dual military couple, and DH recently came over to the Air Force Reserve as well. He's down at Sheppard AFB right now, at tech school to become a crew chief on our C-130s. Sheppard is in Wichita Falls, Texas, which is not known to be a very romantic getaway locale, or much of a locale, period. Regardless, I happily booked my trip to visit him at the end of the month, before my summer is absolutely over and I return to teaching. Our anniversary falls on the 2nd of August, and we don't have a good track record of being together for the occasion, courtesy of the military. Looking forward to enjoying some regional institutions, like Whataburger! Of course, shopping for clothing appropriate to a hot Texan summer ensued as well. All set and ready to go!
Hope everyone else is having a safe and relaxing summer, especially all of you who leave for BMT soon! Enjoy it while you can!