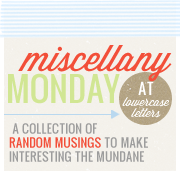 If you've been reading AHE for a while, you've probably seen Miscellany Mondays around here before, although it's been a while. For my new(er) readers, I love getting in on Carissa Graham's Miscellany Monday link-up as a way to add a more personal touch to the blog and recap my weekend. As you can imagine, Mondays are some of the nuttier days for me, coming back into the classroom after a weekend. The kids are crazy, I'm crazy. On with the crazy!
1. It's just nuts how this school year has flown by. I came into the school year a month late, since I was finishing up tech school last summer. I'm four weeks - twenty work days - away from summer. A mere twenty work days stand between me and the completion of my sixth year of teaching. That seems pretty remarkable right now, when you consider that year five is the turnover year for SpEd and that I was pretty disgruntled/frustrated in my first year or two [I didn't think I was going to last long in the classroom]. Of course, I'm decades away from retirement, but I'm closer to year ten than I am to year zero at this point! I need to get cracking, I need to write the final for my seniors ASAP.
2. May is going to be non-stop from start to finish. I'm exhausted just thinking about it. This weekend is drill, next weekend is our vacation to Durango, the weekend after that is my first half marathon [yikes!], and the weekend after that is graduation. The Monday following our Saturday graduation, I'll be starting seasoning training, which is the extent of my summer plans. As long as I can find time to schedule a nap here and there, I'll be a happy camper. I'm excited for these things, don't get me wrong, but it's going to be hectic!
3. I've dropped little bits here and there about the fact that we've put a contract in on a short sale home. It's been over a month at this point of just sitting and waiting, as we expected. I haven't been holding my breath, to say the least. Turns out they haven't been able to contact the agent for the lien holder, so they're having to track down someone else today...you know, because the house is supposed to foreclose this Wednesday. Mhmm...I hope my money/contract/interest is looking pretty snazzy right now, in comparison with a foreclosure! Hopefully this will help speed the process along, but who knows. Any of my readers successfully purchase a short sale home? Luckily, the place is right here in our same small town, so we won't go far if I'm having to pack and move over the summer. It needs work, naturally, but it's going to be a killer deal on a decent chunk of land (half an acre) if we're able to successfully score it. Yay for no HOA too!
4. I've been trying to put more effort into house cleaning lately, which I despise. I just don't have the energy or motivation after a full day of work to workout, make dinner, and clean the house. I'm focusing on one room a weekend, and doing a deep cleaning. I feel like even when I finish, I'll have to start over with the first one. Our house is just too big for DH, FIL and I. I'm looking forward to downsizing to something more manageable if we're able to purchase this short sale home. Not to mention saying goodbye to stairs! I grew up in a single story home, and while this short sale is a split level, the majority of our living area is upstairs (aside from the laundry). Downsizing is all the more reason to start throwing stuff out, and by that I mean donating to charity or the Airman's Attic, etc. We could definitely stand to get rid of a few things around our place, although FIL looked at me like I was a little crazy when I made the suggestion. I try to keep my "collections" in check these days. :)
5. How could I post and not mention the Warrior Games this week?! Living in Colorado Springs, the home of the Olympic Training Center, not to mention a huge military community, we have the honor of hosting the Warrior Games, which are the Paralympics for wounded warriors. All of the games are free, so as long as you're available, you can get out and support your branch of service! They encourage service members to come in uniform, so I'll be out there this week to cheer on my fellow Airmen and show support for all of our warriors. This year marks the addition of British service members as well, and I heard the rumor that Prince Harry is supposed to be in town! The FLOTUS is supposed to speak at the opening ceremonies, but the website specifically states that it's a private ceremony. I didn't get a chance to go last year, so I'm eager to check it out this week. I am an American Airman. Wingman, Leader, Warrior. I will never leave an Airman behind.