Time for a "What I Did On My Spring Break" edition of Miscellany Monday! This spring break, I...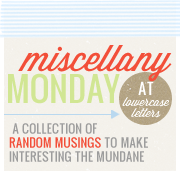 1. ...took three tests. I took the Accuplacer in math to determine what classes I could be placed into at the local community college. Did really well, then found out a few days later that my credits had been analyzed again and I didn't need any math credits after all. I took the DSST in Speech and Public Speaking, and I feel like I did okay (for never having taken a speech class). The recorded portion was really awkward, although I felt like I finished stronger than I started. Lastly, I took the College Algebra CLEP, which wasn't necessary after that last analysis, but I passed and will receive three credits for my Technical Elective portion of my CCAF! That's the point of all of this hard work - my CCAF. With this most recent analysis, I've figured out that I could have my CCAF degree by September, which would be awesome.
2. ...sold Henry, my 2007 Harley-Davidson Street Bob. I bought this bike new back in 2007, when I fell in love with it at the dealer. Riding got me through my prolonged (military) separation with my husband, as I kept involved with the Patriot Guard and HOG. Ultimately, I have to remember that it's the people and the experiences that I'm attached to, versus the item itself. That's what means the most to me. I haven't ridden over a year, for various reasons, and DH had already sold his bike while I was gone. We're focusing our priorities on paying down/off debt, buying a house, etc. This is not the end of my riding career - I will own another, bigger bike one day! Definitely when we're in Texas! ;) I am pleased with the buyer I found, who's equally as passionate about the bike as I was/am. Couldn't have asked for a better selling/buying situation.
3. ...spent most of my duty days at the Force Support Squadron (FSS), which was fantastic. It's good to be in my personnel element, learning from those with more experience and skill, and getting to use my skills. I'll be doing my seasoning training with these folks, so it's important for me to become a part of that team. By the end of the week, I had a great number of my checklist signed off, and I'm that much closer to my 5 skill level. The rest should be in the bag after this summer. Time in training is what everything will hinge on in the end, and that's why I mentioned September earlier. I can't get my CCAF until I hit my 5 level, and I'm being told that I need to be out of tech school for a year in order to have enough time in training. C'mon September, it's going to be a great month!
4. ...got all sorts of quality time in with my wingman! I went through tech school with her, where she was a couple weeks behind me. I didn't find out until my graduation day that she was in my same unit. I wish my 19 year old self had it together like she does, in terms of her self-sufficiency, her independence, and her ambition. I introduced her to the Airplane Restaurant, she introduced me to McDonald's cookies. We're both doing seasoning training over the summer, so many more memories to be made!
5. ...put a contract in on a short sale. We're not really in the home-buying market right now, since we're looking to relocate in a couple of years, but an investment came our way that we just couldn't let pass by. Being a short sale, it's a long shot, so I'm not holding my breath. It could take months to go through, if it even gets that far. If it happens, it happens, if it doesn't, it doesn't. It's in a neighborhood that I really like on a half an acre - beautiful views, great curb appeal. Only time will tell!