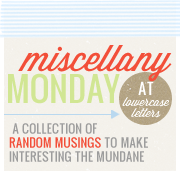 I feel like I haven't done a Miscellany Monday in a while. It's been insanely busy at work and I'm finally getting a break! Well, a break in my sense of the word, although it feels like a Sunday night right now (more on that in a bit).
1. Today is my first (and only) day of Spring Break. The teenage Erin thinks of MTV's The Grind when I think of Spring Break! Nope, not that interesting over here. No pool parties, no gyrating co-eds, just me, DH, and my FIL. I mean, c'mon now, I've been watching "The Muppets" and playing Draw Something on the iPad. You know how I roll! Anyway, I'm on orders for the rest of the week. It was awesome to sleep in, nap, and get a few things done today, but duty calls!
2. Despite not being on orders today, I went to the base education and training office to handle work-hour business that just can't get done when I'm teaching. In working towards my CCAF degree, I've decided that I may need to suck it up and take some classes at the local community college, rather than trying to CLEP everything. I've already applied to said college, filled out my FAFSA forms, and sent off my transcripts for them to analyze. Surprise, surprise, I had to take a math placement test! [Newbies: I'm a special education math teacher.] Despite the fact that I teach the subject, it's been a while since I've done higher level math. I haven't taken a college math class since my first or second year in college, almost twelve years ago. I actually don't have a lot of formal math training, so I gave it a go and reasoned my way through the problems. Fortunately, I did really well and placed right into the 100 level math courses.
3. I booked my College Algebra CLEP test for this Thursday. I'm already schedule to take the DSST test in Speech on Wednesday. Needless to say, I'm a little nervous about how I'll do this week. If I fail any of these tests, I'll either have to pay to retest or take a class. I'm going to give them a go and take a class if I'm not successful. Luckily, the base education office is offering a few of them this summer and fall, instead of driving to the college campus and having to pay for parking. The advisor seemed to suggest that many have a low turnout and get cancelled, so I can only hope for the best!
4. In other, non-Air Force news, DH and I are heading on vacation in May. If you've been reading for a while, you know that we haven't vacationed in ages, partially due to financial issues and partially due to duty. There's still a chance that DH may not be able to go, but we're crossing our fingers. Whether he goes or I have FIL go instead, I'm going on vacation in May! I managed to get a Groupon (or was it a Living Social?) to stay a couple nights in Durango, CO, which is one of my favorite places in the state. Part of the appeal of the area is taking the train between Durango and Silverton, something I've done since I was a child. I ended up booking our tickets this week, and they offer a 20% military discount to boot. May is going to be a busy month for me, with school wrapping up, our trip to Durango, and my first half marathon.
5. Funny what a pair of socks will do for your self-confidence. :) As I buy more and more pieces of my own uniform, versus my initial issued items, I feel like such a big girl. New socks with my boots tomorrow!