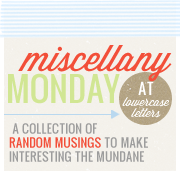 Oh Monday, here again so soon? The weekends go by so quickly and next weekend is UTA (drill), so I really have no time to relax. Luckily, we don't have students on Thursday and Friday, just professional development and a "Knight of Excellence" in the evening on Thursday. On with the rambling!
1. Finished our taxes over the weekend, which was both a blessing and a let-down. In the financial world, it was a win for us - we broke even, exactly. The exact amount we were receiving from the feds? Yeah, Colorado took all of it. I was hoping to get some money back to shuttle to debt, but no such luck. We're going to have to budget that the old fashioned way.
2. I went for my longest run ever on Saturday! I'd been tempted to do a big circle around the area, and mapped it out on Google. It ended up being 7.41 miles. I've only ever done 10Ks as my longest runs before, so I set out to do a nice, slow, long run. I made sure to adjust my pacing accordingly, I layered for the 32 degree temperature, donned my reflective belt, and hit the pavement. The prettiest part of my run was also the hardest - I knew if I made it past that point, I'd be golden, and I ended up finishing in 1 hr 15 minutes! If I can do 7.41 miles, I'm over halfway to my goal of being able to run a half marathon this year!
3. A new(er) AF Reserve recruiter friend of mine asked me what half marathon I was planning to do this year. Truthfully, while I've said I wanted to do one this year, I haven't plunked down the cash and given that goal a suspense date. She turned me on the
Colfax Marathon
, coming up in May. It's an urban marathon, running through all of downtown Denver. The full marathon even takes you through Mile High Stadium. The half marathon takes you through historic neighborhoods in Aurora, and even through their fire station. The idea of doing a nice, flat track while I ogle beautiful homes I can't afford is really tempting. Plus, the price is reasonable for a large-scale half marathon. I think I may see if I can't pull together my registration fees.
Harvey's Seatbeltbags Convertible Tote
4. I'm not an expensive purse kind of girl, nor am I the kind of Coach-toting military spouse. No offense if you are, it's just not something I prioritize for with my money. I will buy one purse every few years and carry the hell out of it - everyday, everywhere. How do my purses manage to hold up with that kind of wear? Simple folks,
Harvey's Seatbeltbags
. They're popular in SoCal, where they've been around for over 15 years, but not widely seen outside of Orange County, where they originated. They have vintage and Rockabilly influences, which pop up occasionally in their designs. I just sent my first bag, which features a Franciscan Starburst design, off to the "bag spa" where they'll clean/restore your purse to like-new. Long story short, I finally committed to replacing the seatbeltbag I've been carrying around for the last 2+ years. I've been wanting a crossbody bag, and a coral one at that. Spring collection, you slay me! "Flamingo" color = hot pink? Me thinks not, looks like a coral to me! Game on!
5. Not a Super Bowl/football girl either, and DH doesn't care. We were happy with going on about our usual Sunday business - chores, commissary, laundry, and the gym. I did splurge a little and made a few dips, trying to make them as low-fat as possible. I love Ruffles and ranch dip, so I bought the Baked Ruffles and made the dip with low-fat sour cream. I even made something from Pinterest! This dip turned out pretty great, but once it gets cold you'll have to reheat it. I tried dipping scoops in it later and they crumbled.