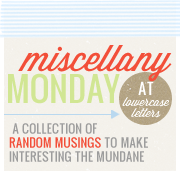 Ay, Miscellany Monday! Time to take a quick BMT story break and talk about some fluff while I eat my lunch.
1. A couple of paychecks and a lot of downtime made for an economy stimulatin' weekend in our household! I came home on Friday to some makeup I'd ordered for myself as a belated birthday gift, and DH came back from a trip on base with the pair of boots (for my ABUs) I'd been resisting. [Makeup + tactical gear = happy girl!] I'm excited to go to my next UTA with some non-issued boots on. Definitely makes me feel like a cool kid. On Saturday, Trinnie and I made the rounds at Old Navy, Whole Foods, and Costco. Do I need to say anymore? Yeah, total guilty pleasure stores. Saturday finished up with the purchasing of Haley's bridesmaids dress, and I'm pleased to report that I fit into (and ordered) a size six, which is fantastic for me.
2. I have a hard time getting motivated to clean the house. It's a large home and the task is daunting. DH has a security question, "Which is your least favorite household chore?" His answer? "All of the above." That should give you an idea of what I'm working with. When we stopped at Whole Foods, I was delighted to see that they had the entire line of
Mrs. Meyers
cleaning products. Back when I worked at Williams-Sonoma, we carried their line for a short time, including the Geranium scent. Long ramble short, if I must clean, let me do it with products I love! The Honeysuckle soap is amazing too, should you come across it. Oh yeah, and the Basil. You pretty much can't go wrong with Mrs. Meyers.
3. Did you know that a Costco hot dog has 550 calories? That's over a fourth of your day's caloric intake. Thanks a lot, Trinnie, for spoiling that one. My 1.5 hour strength training workout on Sunday, which has left me sore today, only burned 476 calories. FAIL.
4. I managed to have a rather productive Sunday. Normally I like to come home from the commissary and gym and take a quick cat nap, but I skipped it in favor of picking up around the dining room, which was in sorry shape. I love how just the removal of some small bit of clutter makes a world of difference. The piles of paper on the kitchen counter were getting ridiculous, and I tossed a number of items out. Feeling good, gotta keep it up!
5. Anyone else drinking the
MyMemories
Kool-Aid out there? MyMemories is a digital scrapbooking software, and the company regularly makes the rounds through the blogiverse, offering contests and whatnot. I was fortunate to win the software a while back, from Olivia at
Simply Sunshine and Daisies
, at I love it! Every Sunday they host a "Speed Scrap" through their FB page at 8:00 PM EST, where they'll post a series of seven instructions to create a page. The instructions are interpreted differently by each reader, so no two pages are alike. It's a great way to sit down and make time to scrapbook, with a clear plan of what you'd doing. I love seeing what the other participants create, and feed off of their ideas. I originally started scrapping all of my AF pictures from BMT, but I recently took a break to play with some more fun pages with friends, in order to get the creative juices flowing again. Great way to work some creativity into my limited schedule.