Love me some Miscellany Monday! I didn't even have work today, and I'm just now getting to this post at 8:35 PM. On with the blabber!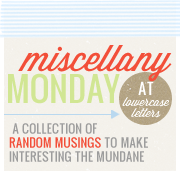 1. DH and I had a pleasant little getaway to La Veta this weekend. La Veta is a small town south of here, about 100 miles away. We stayed at the La Veta Inn, thanks to a Living Social coupon that I picked up for a song. We had a night's stay and an amazing dinner, for only $79. The town itself is very small. We walked its main street in five minutes or so. The innkeepers are really trying to bring more traffic out that way, but for the time being, it serves as a good overnighter. Unless you're doing outdoor sports and activities in the local area, there's not much to bring you there. They're going for an artsy vibe, so each of the rooms is decorated by pieces from a different local artist. The toiletries are non-toxic and organic, by Chae Organics - pricey, but enjoyable. I ended up really loving the Coco Mango Body Butter, so before we left I bought a small tub. My hands have been ridiculously dry this winter. Dinner was the highlight of the stay. The Alys' Restaurant is known for being a diamond in the rough, and it was so true. I had meatloaf, DH had prime rib. I'm not one for cooked veggie sides, but these were so crisp and flavorful. Salad dressings were made by hand, as was the bread. Even DH had dessert, which is rare for him - baklava, and he devoured it. I had the peanut butter meringue pie and couldn't even finish it. Alys came and checked up on us a number of times during the meal. We waddled back up to the room after dinner. Just finished up my TripAdvisor review, like a good traveler! Love that site!
2. Can I tell you how amazing three day weekends are? I'm sure you already know. I love being able to stay up late on Sundays, knowing that I don't have to be up early the next day. Today I did a little bit of chores around the house, prepared a crockpot dinner for tomorrow (thanks Megan!), went for a run, caught up on my DVR, napped, and even did a fun scrapbook page. Seriously, when's our next school holiday? I need to get a countdown going!
3. UTA can't get here soon enough. I know I just had it last weekend, but I'm dying for time to pass so I can see if CCAF accepted my classes and just how close I am to my AAS. I need to get some uniform questions answered too, so I can buy semi-formal dress. Awards banquet, here I come! Hopefully the next time I attend one, I'll be an honoree. On a similar note, North Carolina can hurry up and send me my professional teacher's license already (versus the initial that I currently hold). C'mon now folks, let's do this.
4. Who else is a tax time nerd? You better believe I've already hooked up with H&R Block through Military One Source. Just waiting on our W-2s from our civilian jobs, then we'll be good to go. Our reserve W-2s have already been inputted and I'm pleased with the return so far. As much as I know we should be trying to cut even, I still look forward to "free money" at tax time. Out of sight, out of mind. We need that cash right now to work toward our debt-free goal. I'm planning to do a dedicated post about it, but we've found a serious buyer for my motorcycle. I'm doing my best to separate the physical object from the friends/memories/experiences that I associate with it, which I know is what's making me sad about this parting. I'll have another bike one day, I know I will.
5. We're a mere 15 days away from my first Air Force anniversary! Only 19 more years to go! One of the best life decisions I've ever made for myself. I asked DH if he was going to make me a cake. I don't think he was jumping at the idea. :)