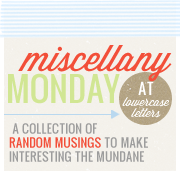 I've been meaning to write this post all day! My poor blog is off to a sad start in the New Year, but UTA on the first weekend after going back to school kind of puts a damper on things...so does 0430 wake-up calls on both of those days. I was spent, to say the least. On with the miscellany!
1. Waking up at 0430 sucks, but it was a good UTA weekend overall. I've wondered in the past where I stood with my supervisor, but this weekend gave me a good indication of how she feels about my competency and leadership abilities. I can't go into it too much, but it was a big confidence booster. I also received a couple compliments from two officers in our executive group, so I left the weekend feeling pretty good about myself and what I've been able to show them in four short months!
2. Our first shirt [sergeant] offered to sponsor a couple of Airmen and their dates for the wing's awards banquet in March. I'm going to take him up on the offer, although I was hemming and hawing about it for a bit. It's going to be a good networking opportunity, and a chance to attend a semi-formal military event. I've never been able to attend a ball, so this is the closest I've gotten. This event will require me to be in semi-formal dress. It's not as big of a blow to the wallet as mess dress, but it's going to run me about $90ish. I'll need a white shirt, satin tie-tab, winter hat, and possibly an appropriate purse. I feel like I keep asking co-workers a billion questions about my dress to clarify. Back to AFI 36-2903 I go [that's dress and appearance, non-AF folks]!
3. It's been a struggle to push myself back into my running routine, especially with my late hours and the waning sunlight. Luckily my replacement shoes showed up last week, so I have no excuse not to get out there and pound the pavement. Now with the banquet, I'm a little more motivated to lose a few pounds before I slap on the ol' dress blues. My next PT test isn't until August, so I have some time to get my strength training in before I'll be expected to rock out some pushups.
4. This week needs to fly by as quick as humanly possible! DH and I are finally getting out of town for a night, and using a Living Social getaway that I picked up. We're not going far, just a little under 100 miles away, to a tiny town south of here. I've never spent any time in this part of Colorado, so I'm eager to do a little exploring and spend a night with DH in a bed that isn't ours. :) We're probably going to do some antique shopping in another town on the way down there, so we'll see what we find! Yay for three day weekends!
5. The best news that we got last week was that DH's conditional release from the Army Reserve was finally signed and sent back to us. He's been waiting on this document for months now. He'll be joining me in the USAFR, and gets to sit down with my recruiter and look at potential AFSCs (jobs) as soon as he gets his physical done. I'm eager to see what he might wind up doing, and therefore where I might go see him graduate. He's interested in doing Security Forces, and I'd love to go back down to Lackland and visit. I'll be happy as long as he's happy, naturally. He's definitely the physical labor sort of person, so I'm excited to see if he might actually be flying. I'm envious of everyone in our squadron that gets to actually enjoy the air portion of the force. Desk jockey, away!

Hey, have you entered my EdenFantasys.com giveaway yet? $60 g/c here, folks! There's only been a few entries, so your chances are good! Even if you're not into sex toys, remember that V-Day is coming up, as is wedding (thus bachelorette party) season. They have plenty of lingerie and party favors/gag gifts for sale too!
Speaking of giveaways, Michelle @ The Vintage Apple is having one of the best giveaways I've seen in a long time! Birchbox, People Style mag, and a Starbucks card? Count me in! She is a huge sweetheart and definitely deserving of 1000+ readers!
Hope everyone's week is off to a great start!