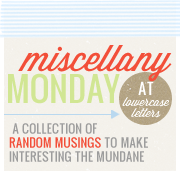 1. Winter Break is staying up late to bake, digital scrapbook, and then sleep in until 9-10ish...and not shower until around noon. Some tweeps were even encouraging me not to shower. I had two Magic Cookie Bars for breakfast. Heck yes, it was a great start to the day!
2. Happiness is USAA paying me a day early with my direct deposit, and a December paycheck that brings lots of extra hours from tutoring, and a "bonus" we got. Haywee and I were both doing the happy dance. I've been waiting on this bonus so I could renew our registration on three vehicles, and also spring for new Air Force plates for my vehicle! Super excited for them, you don't even know. DH has the Army ones on his truck, so we look like a nice and confused household now. :)
3. I had a few AF-related emails this morning. The good news is that I get to go in to work tomorrow to help out in the office. Our ART (Active Reserve Technician, a full-time position) asked if I wanted to come in and help out with some of the things we can't get to during normal UTA weekends, and I gladly accepted. The other news is that my CDC test was moved up a day, to the 29th. Time to get studying!
4. A friend of mine from tech school may join us for Christmas. I really hope that she does. She's only stationed three hours away, and she's not going home for the holidays until after Christmas. Hopefully we get the word that she's able to come down. I would love to make her a stocking, buy her some gifties, bake her some treats, and just make her feel welcome (and loved)!
5. This song came on the radio today, and I hadn't heard it yet this season. This is my kind of Christmas! Oh, Mexico!