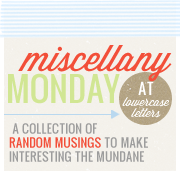 What an effed up day. Thank goodness for Miscellany Monday so I can recap for you all!
1. It's Thanksgiving break right now. As you can imagine, I have grandiose plans for getting all sorts of things done. Dream big, Erin, dream big! It's Monday, sure, but you and I both know the week will be over before we know it, especially if I'm spending a lot of time cooking/baking on Wednesday and Thursday. If you notice a blogging absence, it's because I'm enjoying my offline free time this week.
2. I woke up early this morning, hoping to get a number of things done on base. I needed to make an appointment at optometry, hit the gym, do a commissary run, and I wanted to stop by my office to check in. Bureaucratic Military System: 1, Erin: 0. Do I even need to get into the story about how I called here and there 15+ times, visited a number of offices, and didn't get far, other than wasting probably 3.5 hours of my day? Well there you go. The ending result was that I had no optometry appointment and I'm locked out of all of the computer programs necessary to do my job. Lovely. At least I know now, rather than during UTA weekend. In the end, I scrapped the trip to the gym and went to the commissary and then home, which doesn't make me feel particularly good about myself.
3. I did manage to send off my packet for licensure renewal in North Carolina! I'm excited about making progress in that direction, even though we have no idea what's going to happen at this point. Everything's up in the air, but I will have a teaching license in NC that's good for the next five years and I was able to get the assistance I needed from the Colorado Department of Ed, so NC now has proof that I'm highly qualified in mathematics. That's a huge relief for me, since when I left NC, they were debating about how SpEd teachers should demonstrate competency in their subject matters. The PRAXIS test in math is no joke - I've failed it before - but it covers concepts that I'll never teach in a pullout special education math class. I'm glad I won't have to take that one again, with this form being signed off by the state that I've demonstrated competency out here.
4. I'm all set for our wing's Christmas party! I'm going to be overdressed, no doubt, but I'm going to be looking good, if I do say so myself! Sparkles a' plenty on my little mesh tank dress covered in matte black sequins, with a little open-front jersey cardigan and a pair of dangly metal mesh earrings. It's probably the sexiest dress I've bought in a long time, but I finally feel confident enough to wear it. Pictures to come, of course! Hard to believe that it's in a couple of weeks!
5. I need to take it up a notch in my CDC studying if I'm going to finish this week! Or cleaning the house, for that matter! Tomorrow is another day. Time to get back outside, hit the pavement, and get something done!