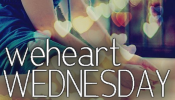 How can I not make this week's
We Heart Wednesday
about spring break?! I'm going to call it right now - I'm going to need another week. Yesterday was really productive, but today? Not so much. I have so many things I need to get accomplished this break, but I've barely tapped the surface. I must compensate tomorrow!
Anyway, let's focus on pretty, happy pictures of spring breakers!
I don't know about you (well, maybe not you youngins), but spring break reminds me of MTV's The Grind! For your flashback, viewing pleasure...