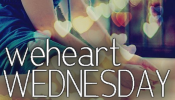 This week, I love muscles and musculature! I've been devoting more time to my fitness lately and I'm loving the results. I'm getting the most definition in the upper ab muscles right underneath my boobs - there's not a lot there, so the progress really shows! My calves are tight almost all of the time now, and I'm guilty of checking out my legs in the shower to see the progress. I still have my problem areas (inner thighs, butt, love handles, lower abs), but I can feel the muscles emerging from within! I have only minimally changed my eating habits, so I'm sure that if I put more effort into that, I'd get more results.
As for other positive signs that I'm doing well, push-ups are no longer something I fear! I can do 13 in a row at this point, which is a vast improvement even from 3 weeks ago when Noelle was here! I don't fully dip all the way down, but I know I'll get there in time. Running isn't something I dread anymore and I've been able to do it more regularly (every other day), like I'm supposed to. What has been worrying me? The sit-ups at this point! I can go for about 30 seconds and then I poop out. Must keep working on them. I'm doing the resistance ball and traditional sit-ups in the meantime.

Totally Trinnie and I in our old age.
I've really been enjoying my gym time too. I put in a good workout, and go through most of the upper body machines. The PFC (Physical Fitness Center) at Peterson has a Treadwall, which is like a treadmill for rock climbers (a rotating rock climbing wall)! I didn't get up the courage to use it, but I got to watch someone else in action. Maybe next time I'll brave the machine, since it's such a great upper body workout.
Plug me into my iTouch, throw some eye candy in my sight line, and I'm a happy camper! :)