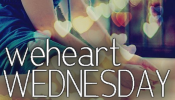 My pictures are from
weheartit.com
, with the exception of one. One of my favorite wedding photos of DH is this lovely shot of him with my bouquet! His uniform is absent of most insignia because we got married on family day of BCT weekend, if you haven't read up on our story. The bouquet was a gift from my dear, departed Aunt Trisha. I still have it, dried and in a vase on my vanity.
I'd be in heaven!
Beautiful against the pale green of the drawer.
I love big, full blooms!
I would
love
to have bushes this large against my house!