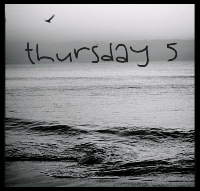 Ugh, I'm going to try to suck it up and do Nicole's
Thursday 5
today. The morning was going ok, but took a nose dive here a few minutes ago. This week's words are:
Outstanding
Proud
Energized
Splendid
Wonderful
1. It would be
outstanding
if we could just extend my spring break over here, mkay? Is that too much to ask? On the flip side, I know that going back to work is going to make time go by
really
fast. I leave for BMT in 67 days!
2. I can't wait to stand
proud
ly in my dress blues, having successfully completed BMT and become an Airman. It's pretty much all I'm working for these days, and the biggest thing I'm looking forward to. Everything else is just something I have to get through, and time I'm passing.
3. As much as I love sleeping in, it's been bothering me that I'm waking up at 8ish every day this break. I feel like by the time I finally get out of bed and get going, it's already mid-day. I would probably be a lot more
energized
if I was up earlier!
4. My bedroom smells (and looks) absolutely
splendid
after the last three days of cleaning! Well, at least it does on my side of the room. The Scentsy is fresh, the bathroom is clean now, and I'm home to enjoy it all! It feels like a tranquil spot again, rather than a CF of folded laundry. I love having a calming napping spot.
5. It would be
wonderful
if my IEPs for next week and my six weeks of lesson plans (for when I'm in training) could do themselves. That would be absolutely amazing. That's what I'm supposed to be doing right now, over break. It's been hard to get motivated, to say the least.
Ok, I need to go make it a better day. I need to be productive and feel better about myself. I'm debating whether I need to get out of the house, or whether I want to stay here. Bah! Time to shower up and think about it. Happy Thursday, everyone!