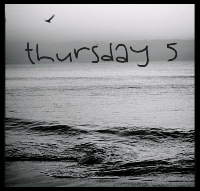 Happy Thursday! It's a late start for me on Thursday and after Friday I'm welcoming SPRING BREAK!! Woot! Head over to
Nicole @ Flip Flops and Combat Boots
to jump on in! This weeks words are:
Upbeat
Fantastic
Accomplished
Thoughtful
Brilliant
1. It's hard not to be
upbeat
when you know that the upcoming Sunday can
truly
be a lazy day - NO school for me for an entire week! It couldn't come fast enough, let me tell you! We made plans to triple date with Haywee, her BF, and her BF's parents. They're (well, aside from Haywee) really big gun people and we're going to do some shooting. I put the BF on speaker for DH so he could rattle off all of the weapons we'd have in tow. The BF said it's not the whole "Arsenal of Freedom," but it was enough to make DH a little excited. Me, I could stand to get some shooting in before I head down to Lackland to qualify on a weapon.
2. I squealed a little when I read that
Stoney LaRue
was playing at the local country bar on St. Patrick's Day. He's a Texas country guy that I was exposed to back at Cadillac Ranch in Fayetteville. I'm going to hear him play this song alone! This song is
fantastic
and totally stuck with me! Now if I can only talk Haywee into braving the drunken St. Patty's crowd downtown...
3. It's been a semi-
accomplished
kind of week. I have IEPs coming up in April, but I've been farting around most of this week, doing piddly things here and there. I do feeling like my students are being productive with our lesson on inequalities. They seem to be grasping the concept fairly well, including my "lower functioning" ones. It was a nice, easy lesson for a weeks worth of instruction. Our fourth quarter began for a week, and then we're out for break. Not sure whose brilliant idea that was...
4. I have some amazingly
thoughtful
BFFs in my life, and I'm so glad that I can reciprocate (at least, I hope I do). Between Noelle, Haywee, and Trinnie, I've been triply blessed lately. I could go on for hours, but I won't bore you. Squishy hugs all around!
5. Hmm,
brilliant
? Some of my students had some brilliant, lightbulb moments recently. If I was an annoying Staples employee, I would've been hitting my "Easy" button nonstop today during Geometry class. C'mon guys, we can do this!