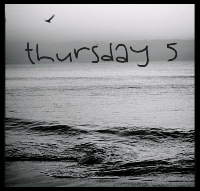 Check out Nicole @ Flip Flops and Combat Boots if you want to participate in the Thursday 5! This weeks words are:
1. I am feeling less than fabulous these days, and I really wish Thursday 5 words would reflect that sometimes. It's hard to feel fabulous when you're stressed at work and stressed at home. It's hard to feel fabulous when you don't know if you're going to be able to pay bills on time.
2. It was really satisfying to see "ACCOUNT CLOSED" by DH's truck loan info in my online back account this morning. YAY for paying off his old truck!
3. It was be really amazing if my DH could catch a break already. He really is talented and has a lot of experience. I wish I could come home to hear that he received a phone call from an employer and has an interview lined up. He's really charming in person, so if he could just get his foot in the door...
4. It would be sweet if I could get a lot accomplished after school today and see more Etsy sale notices in my inbox. C'mon Etsy sales!
5. I will be a lot more jubilant when spring break rolls around at the end of this month, although it means I have a you-know-what ton of IEPs coming down the pike after that.