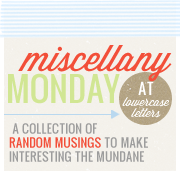 1. Happy 1st Monday after Daylight Savings! I'm exhausted right now, and I'm so ready to go home and go back to bed! I am not a fan of the dark when I'm getting ready for work, and it was way colder than it should've been this morning. DH was far too hyper last night and I remember looking at the clock at ten to midnight. When you wake up at 5:30, that's not cool. Needless to say, I said in my best, stern teacher's voice that I was not going to be doing this (11:30 bedtimes) this week. I did it all last week and it was brutal. I don't have any meetings after school today, and it's a push-up/sit-up day, so I'm napping as soon as I get home. I'm really going to miss afternoon naps when I'm at BMT! Four more school days until my spring break starts!
2. My new wedding ring should be arriving today! It was in Denver early on Saturday morning, and I've been watching the Delivery Confirmation updates. I will probably "break it in" before I leave, just so that I can get comfortable wearing it. I don't want to be conscious of it while it's on my finger during BMT. I'm waiting on two more pairs of
Under Amour compression shorts
to show up as well, so I can continue my BMT "nesting" (aka washing and packing). Picking up my stamps after school today, so I can write DH and Trinnie letters while I'm there - and keep you all posted!
3. On a positive DH note, how do I not love a man who self-selected Open Season 2 as the movie he'd watch on Netflix last night? When I went upstairs for bed, he was laughing his little ass off, and you just can't not smile at a character named "Mr. Weenie." Add Raisinettes to this mix and you get a giddy, hyper husband who keeps you up until almost midnight. Loveable jackass, indeed.
4. I'm really excited about being almost all packed for BMT. It's exciting to look at the duffle bag beside my bed and know that I'm going to be boarding a plane with just that bag and starting a new adventure. I found out over the weekend that I'm flying out of COS, which is fantastic for us because it's close to our house. I'm hoping that it means DH and Trinnie will be able to come see me off, especially since Trinnie won't be able to attend my graduation (since she'll be birthing at the time). Being that everyone flies out on a Tuesday, I'm going to have the entire Memorial Day weekend to spend with DH before I go. It's going to be odd boarding a plane with the bare essentials - no purse, no iPod, no purple neck pillow. You know I'll be sleeping on the way down, since I know I won't be sleeping much when I'm there!
5. Happy Pi Day to all of my math geeks out there! Alas, I'm no fun and didn't bring pie, nor did I plan for a pi lesson. Next year, perhaps! I didn't want to step on the toes of my co-teacher, nor do I have money to feed everyone pies. Mmm...pie! I'm dreaming of rhubarb with a crumb crust!
Happy Monday everyone, try to hang in there today!