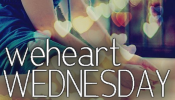 This is my first time participating in the We Heart Wednesday meme from
Briemarie.net
. There's a few bloggers that I follow that participate, including one of my BFFs,
Taryn
, and
Nicole @ Flip Flops & Combat Boots
. It's a pretty easy meme - pick something you love and find your images from
weheartit.com
.
This week I need to profess the obvious, if you know me "in real life." I heart
chartreuse
and
coral
! These are my two signature colors. If they put out a makeup item in these two items, I'm liable to start drooling and open my wallet. I'm a sucker for these items - clothing, household items, office supplies, you name it. They just get to me.
I wish I could've found more pictures! There's just not enough chartreuse on
weheartit.com
to satisfy my needs!