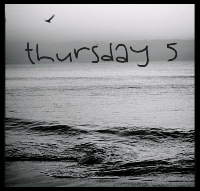 Head over to Nicole @
Flip Flops and Combat Boots
. She's fresh off a vacation to Disneyworld and ready to get back into Thursday 5! This weeks words are:
outstanding
refreshed
adored
cheerful
cool
1. Last week we were denied a home loan because of our
outstanding
debts. Our debt to income level is just too high right now, since DH isn't working. I had hoped it'd be a good wake-up call for DH, but sometimes I'm not so sure. He has been better about thinking proactively about his job search, although he's also getting ready for school to start soon. I would rather not see him settle for a full-time position with a huge commute, like he's been looking at lately, and have him get something part-time and focus on his school work. I just don't know how he'll do with full-time employment
and
school.
2. I envy Nicole and her feeling of being
refreshed
after her vacation. I could only dream of vacationing with DH right now. Spring break will be here at the end of March, and I have no idea if we're going to have the money to do anything fun, nor do I have any idea if DH will even be able to get away.
Living Social
Escapes had a trip to a
B&B
in Taos, NM today that is calling my name. I've wanted to go to Taos for a while now, and this place sounds luxe!
3. I
adored
having Noelle here for a visit! It was so good to see her and spend a lot of quality girl time together. We didn't even get to do all of the fun Denver stuff, as we stuck close to home, so I'm already eager to have her back to do other fun things!
4. A four-day work week can make anyone
cheerful
! Not having any IEPs scheduled this week also makes me a happy camper. I need to be a forward thinker though, and make sure I'm on top of all of the meetings that I'll have coming up in March/April. I threw my math kids something different today in class, and I think it was helpful to not only mix up our routine, but to give me a better idea on who's really grasping the concept.
5. It would be really
cool
if our tax returns and and DH's money for his GI Bill would come through sometime soon. I've been putting off bill-paying this week, although I'm trying to psych myself up for it tonight. It would also be really
cool
if my shins would stop hurting so I could get back to beating my running times and increasing the amount of time that I'm actually running. I don't have time for shin splints!