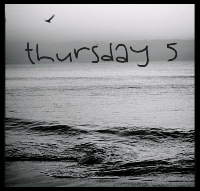 I'm really waiting for the Thursday 5 to have negative, pessimistic words, so call me a Negative Nelly. :) This week is the first week at
Flip Flops and Combat Boots
, rather than
Mrs. Gambizzle's
. The words are:
Excited
Joyful
Thankful
Happy
Pumped


1. The fact that all of my finals are finished, graded automatically by the computer, and the final grades are in, makes me

excited

! I just need to babysit for the rest of the day and a half day tomorrow, essentially.
2. I am

joyful

that so many of my students passed our co-taught geometry class. We had a lot of "on the border" kids that I was worried about. Luckily, they pulled it out for the final.
3. I am

thankful

that I have such a loving, wonderful husband. Despite the fact that we seldom get to spend any holidays together, we make it work and he goes the extra mile to make me happy and spoil me unnecessarily. I love my muffin!
4. I am

happy

that by 11:05 tomorrow, the students will be GONE and I'll officially check my mind out for winter break! Mexico, here I come, in less than a week! =D
5. I am

pumped

that I'm going out tonight with the girls from work! There's an acoustic Christmas concert at a local bar, featuring some newer country artists. $5 to get in and my first class tomorrow is a planning period - game on! The
JaneDear Girls
are playing, which I'm interested in, since Susie (how appropriate, right?) looks to have some rockabilly/vintage roots.